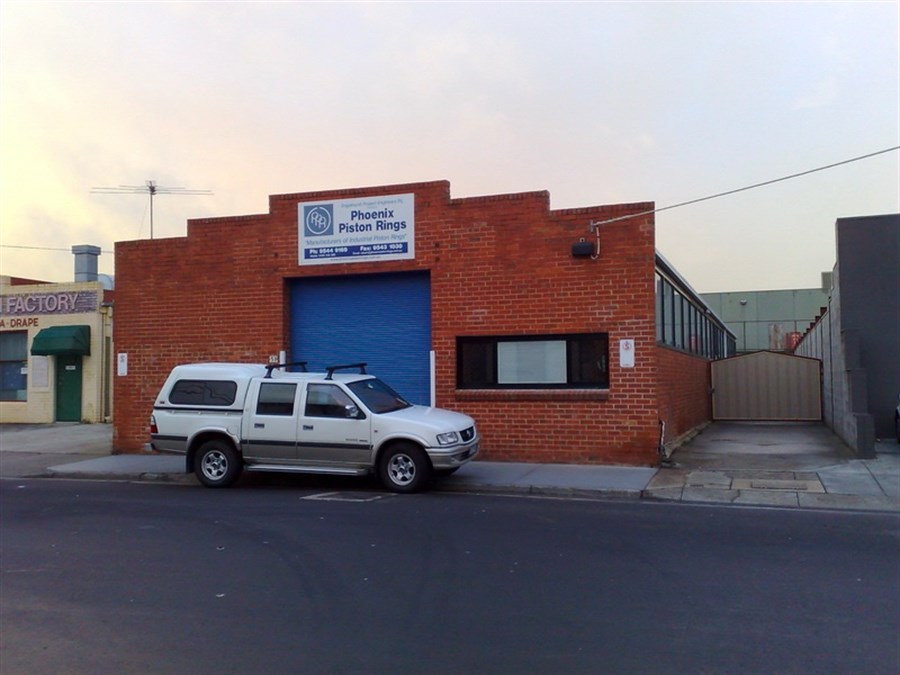 History
Phoenix Piston Rings (PPR) has been specialising in the manufacturing of Industrial Piston Rings for over 50 years. Originally located in St.Kilda, the company relocated to the current location some ~35 years ago.
Applications
During this period we have built-up considerable expertise in the manufacture of original and replacement Piston Rings for a wide range of Industrial Applications.
Piston Rings are used extensively through-out Industry for the sealing of gases and liquids, as mechanical retainers and for the sealing against the ingress of dust and contaminants.
Due to varying operating conditions, specific applications, customer's preferences and development have led considerable variations in Piston Ring design and materials to optimise performance in accordance with specific requirements.
Stock
Through past experience PPR have determined a range of the more commonly required ring sizes and types, which are kept in stock for regular Customers.
Due to the wide range of Piston Ring Sizes, Types, Joints, Materials etc. it is impossible to maintain stock of all possible ring configurations. In particular, re-furbished equipment often requires oversize rings to compensate for re-boring, honing or other re-machining operations.
Accordingly, PPR specialises in the manufacturing of rings to customers' drawings, specifications or as per sample rings provided. We have prepared an inquiry page which explains our identification conventions and any required information.
Quality
We believe that Phoenix Piston Rings has established and maintains a sound reputation for providing a precision, quality products that conform to our customers' specifications and are reliably supplied in the specified time.
We would be pleased to further discuss any of your requirements and welcome any feedback.
Robert Engelhardt
Managing Director
Originally Tarant Motors of Carlton

Secretary of the firm named Ewart Paul
Assembling English cars under the name 'Singer'
Ewart Paul decided to buy a property at 32 High Street St. Kilda, occupying about 4 acres, being an ex-timberyard that had burnt down, named it Phoenix Motors, about 1930
The land was owned by the Flatman brothers
About 1930, it began as an engineering shop, still assembling 'Singer' cars for another 2 years, stopping soon after
(Narrated by Les Adams, former employee) "In 1938 I was attending South Melbourne Technical School learning Engineering.

Whilst there, the engineering teacher asked me if I would like to come and work for him, this was 1941, being only 16, I agreed.
Phoenix Motors became a workshop producing gear cutting, turning and fitting, grinding machinery and heat treatment. The engineering teacher that had invited me to go there, by the name of Len Hawkridge, was the manager of the department that started to produce piston rings, using handmade machinery. When they started producing piston rings, they were copies of an American firm named Perfect Circle Piston Rings, made only for automobiles. Coming in castings from a foundry in Coburg, there were few produced, but they were machined in our 'makeshift' workshop. The piston rings were named after an American firm called Pittsburg and sold under the name Ryco. Another company, Polsen, produced pistons, so we sold piston rings to them.
By about this time, around 1942, with the war in full force, the department of aircraft production approached Phoenix Motors to make piston rings for the Air Force, placing a halt on production of car piston rings so that aircraft rings could be made. They were created for the RAF and USAF, making piston rings for Spitfire Rolls Royce Merlin engines and the Australian and American equivalent. During all this, the factory was expanded through money from the government, and the firm grew. With employment at a level of about 12 people, it ended up that the firm had to undergo shift work to keep up production, each employee undergoing 12 hour shifts, which doubled the amount of people at work, increasing the employee level to about 26.
Production of piston rings was at a level of about 10-15,000 produced per month. All these rings had to be tested for circularity, so I was made 'chief tester', given the job of testing them for a perfect round shape. A man, who was the inspector for the Department of Aircraft Production, came to our factory every so often to inspect production. He was a Major in the Salvation Army, by the name of Mr. Peace.
When we received a shipment of piston rings from the foundry, we would sit and check them all for imperfections, coming in random batch numbers. We would end up with bags worth of unsuitable piston rings, however many passed the tests.
All these rings we produced were going to the Islands, for aircraft repair. They all had to be made rust-proof so what we did was dip them in hot oil, rolled them up in grease proof paper and then dipped in wax. They were then boxed and the Department of Aircraft Production would give permission to send them out to the island. This continued until the end of the war in 1945.
After the war, Phoenix Motors returned to creating Automobile, Diesel Engine and Tractor piston rings, also creating piston rings for Ansett Airways which began a new era in piston ring creation in Australia through being chrome-plated.
We created piston rings for Lanz Tractors and Gardiner Motors (who made engines for patrol boats) along with our usual Automobile companies. This continued up until 1971 when Phoenix Motors decided to finally sell up. C W Paul, the new managing director, the son of Ewart Paul, decided that he'd had enough. My mate, Mr Hawkridge, the foreman of the Piston Ring department, who gave me my first job at Phoenix Motors, retired. Stanley Deane, who was at the firm the longest, became interested in the firm and asked Mr. Paul if he'd sell him the piston ring department. Mr. Deane bought the piston ring department of Phoenix Motors for $30,000. Mr. Deane then further went to ask if he could have the name Phoenix Piston Rings and after some bickering, Mr. Paul decided he would give Mr. Deane permission to use the name Phoenix.
We had to find somewhere to open up the new business. We finally found a factory in the current location 51 Cambro Road, Clayton, giving us 2 weeks to move out of the original location. Stanley Deane gave orders to start producing in a hurry to make the money we needed to support the company. In 10 days we started producing piston rings again, keeping the business afloat.
In 1982, Stanley sold Phoenix Piston Rings to a Mr. Elmar Landgraf. I was employed there until 1995, when due to ill health, I left the firm.
In 2000 Mr. Landgraf then sold the company to his nephew Robert Engelhardt who now runs the firm.
By Leslie Adams
(Former Employee)